Welcome to our latest blog post showcasing the highlights made by Smile API in the first quarter of 2023! As the most promising provider of secure and accurate data verification, we are thrilled to present our valued customers and partners with an overview of the latest product updates and exciting highlights that have shaped our journey during this period of innovation.
Our dedicated team at Smile API has been hard at work, tirelessly pushing boundaries to enhance our platform and deliver an unparalleled experience to both end users and businesses. We continue to be committed to empowering businesses and fostering financial access in 2023.
Join us as we dive into the remarkable achievements and advancements achieved in Q1 2023.
Wink Widget Customization and Experience Improvements
The Smile Wink Widget is what clients' customers see and experience, and we're dedicated to delivering the best performance and experience we can.
Continuing with the Wink Widget 2.0 launch last year, we've improved the user experience for various flows in our widget, from document uploads, login assistance, and data source selection. We've continued to ensure users have control over their data by improving document revocation via the widget.
We've also launched Wink Widget Templates early this year.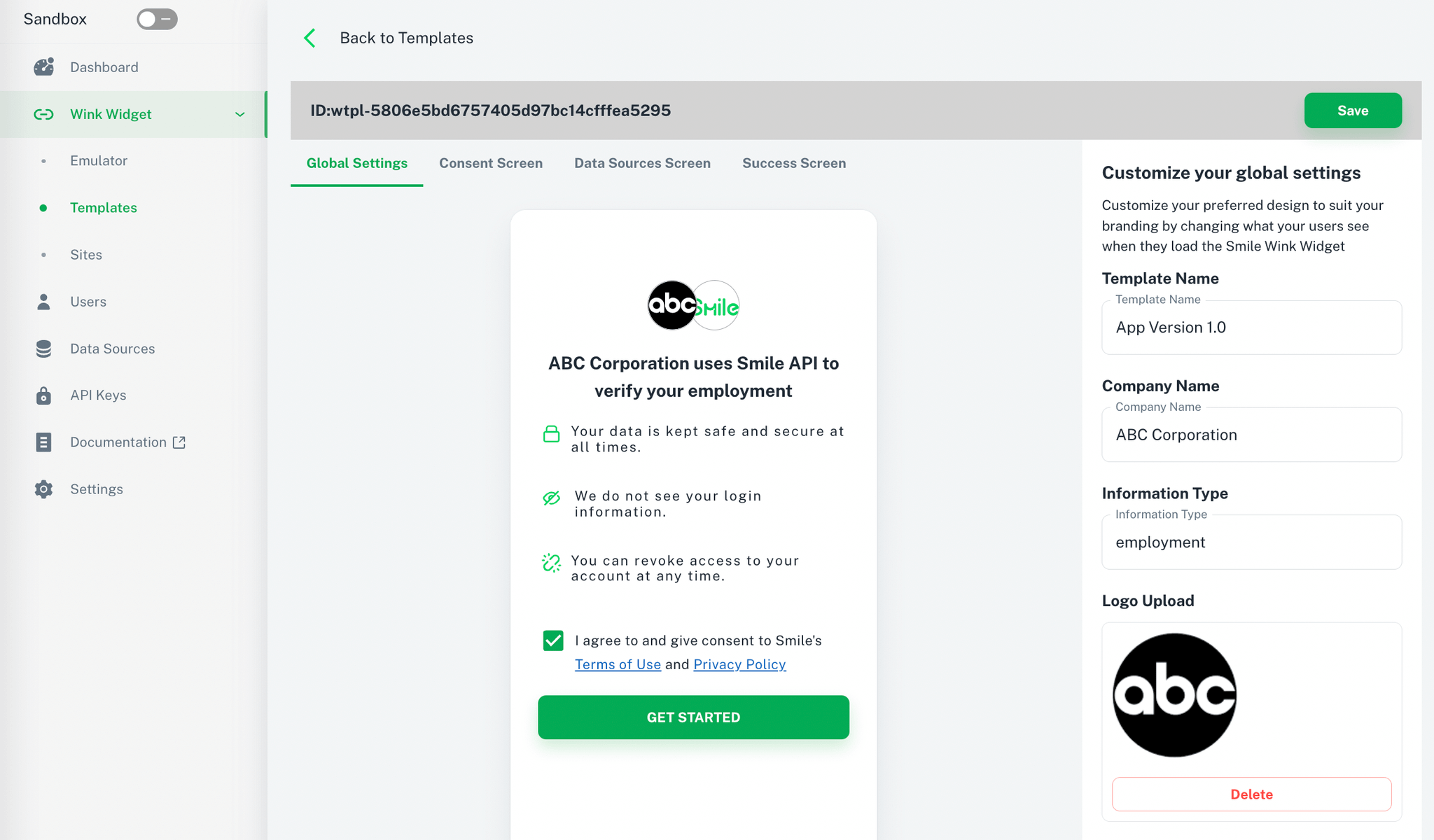 While the Wink Widget is customizable according to your business needs, launching a new user flow or adding new data sources have always required a full release to roll out to your customers.
With Wink Widget Templates, you can manage all Wink Widget UI settings via the Developer Portal on the fly. No need for lengthy release processes if you need to change how your Wink Widget behaves - simply change it within the Developer Portal. You can customize many aspects of your user journey, from your company or brand details, data sources, call to action labels, and even which screen your user's consent is recorded.
Finally, aside from regular optimization of our backend services to ensure that the widget is snappy and responsive, we've also focused on improving the developer experience for the Wink Widget. We've implemented two new tracking events:
onUIEvent enables implementing in-house tracking and additional handling depending on where the user is in the widget user flow, to allow developers to retrieve more insights from user behavior and tailoring application behavior
onUploadsRemoved is fired whenever the user revokes uploaded files via the Wink Widget, allowing developers to customize application behavior at this point of the user flow
Developers are an important part of the Smile ecosystem, so we've also launched more improvements to help developers and Developer Portal users.
Developer Tools and Portal Improvements
We've released a slew of incremental improvements on the Developer Portal and other technical resources. Finding the correct data points you need is easier within our Data Sources section, even for documents and archives uploaded by your users.
Managing and viewing archives and documents shared by users is even better, allowing developer portal users a better view of the data they have access to from the Data Sources page. The data points from these archives are also accurately represented in the Data Sources page to ensure developers have all the information they need to quickly integrate and implement.

To help with data handling, we've also added a new metadata field for all datapoints retrieved via our Open API. We've added a new itemCreatedAt attribute to provide the time the data point specifically was created in the Smile network, while createdAt remains to be the time the related account was created.
Smile also understands our Developer Portal is not just for developers, so we've also made the portal easier to navigate and easier to find the information you need. We've made it easier to access and manage your users' information by surfacing names and profile photos on the users lists and easier retrieval of the Smile User ID for manual recording.
Finally, we've doubled down on security this quarter and have strengthened password requirements across the network. All Developer Portal users now have follow a stricter password requirement when using the portal. This ensures higher security when accessing customer data using the Developer Portal.
Smile launched Continuous Data Sync (CDS) this quarter, which provides you access to the most up-to-date and recent data from your users once they have consented and connected their account.
Prior to this launch, if you require updated information from your older/existing customers, they will need to go through the Smile process again to re-share their data with you. By consenting to CDS, users can authorize Smile to sync data for you across multiple months, until they revoke access to their account.
We soft-launched CDS with My.SSS accounts, and are rolling out other platforms over the next few months.
We have also enabled optical character recognition (OCR) for uploaded payslips. Interested institutions can encourage their users to upload their payslips via the Smile Wink Widget, and obtain digitized salary data via the API without the need for a manual review. Payslip upload is a valuable fallback method in the absence of connected online accounts.
Finally, with the addition of several data sources that do not require a login last quarter, we continue to provide valuable developer support for these sources by adding a a new web hook event to allow developers to check if an account has been created even if no login is required from the user. This improves access of various data sources such as NBI Clearance and PRC License verification.
Entering a New Market: HR Employment Checks
While a dedicated Portal is on the way, Smile is working on various feature improvements to facilitate employment verification checks. These include, among others, strategic improvements on Smile's manual email invitations.
These improvements ensure that even businesses with no technical capability to consume and use APIs still have access to valuable data and services. Businesses can use Smile's email invitations to invite their candidates to share their employment data securely, and review their shared data through the Developer Portal easily.
From API enhancements to expanded data sources and comprehensive developer resources, Smile API has spared no effort in building a better service and ecosystem, for both businesses looking to validate income and employment history, and individuals who wish to share their data securely to gain access to better financial services.
This first quarter of 2023 is just the beginning. Stay tuned for even better services from Smile API this coming year!