Welcome to our quarterly product update blog post! As the leading API for secure and accurate data verification, Smile API is always looking for ways to improve and enhance the user experience. That's why we're excited to share what we were working on in the last quarter of 2022.
Our team has been hard at work preparing new features and improvements that we think you'll love. So without further ado, let's jump right in.
New Customizable Web SDK That Increases Conversion
Based on 90% worker coverage that Smile built in 2022, we're empowering our clients to provide services to these potential customers through the second version of our Wink Widget SDK.
The new SDK focuses on many user experience improvements without compromising on performance, security, and its ease of embedding into any native fintech apps or finance applications. A lighter footprint, faster loading time, and flow improvements ensure that end users can quickly and easily engage with the Wink Widget -- enabling clients to get the data they need for critical underwriting and decisioning processes.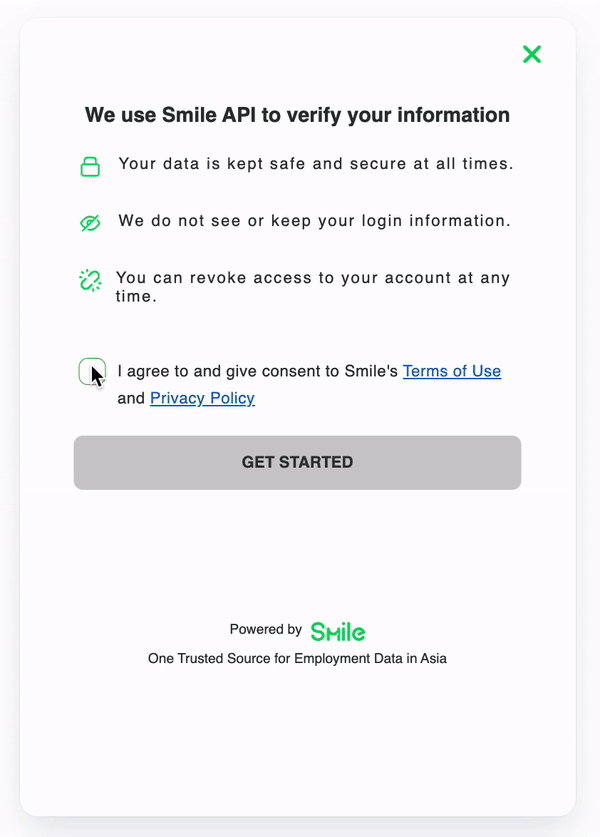 Smile has also focused on in-widget login support for the new Wink Widget, to ensure that end users have ample support when it comes to determining their login IDs and passwords without leaving the widget or app.
In addition, we've integrated several new features that enable our clients to customize the Wink Widget even further. Wink Widget Templates let clients customize more of the experience, providing a seamless co-branded experience for end users that helps with conversion and trustworthiness.
Reducing Non-Performing Loans Through Better Data Points
Smile has helped underwriters reduce non-performing loans by over 60% through empowering end-users with sharing their employment and income data in a secure and user-permissioned manner. We've continued to make strides in improving our available data points to ensure you have the data you need.
We've onboarded and deepened more data points in the last quarter of 2022 that assist in making better credit decisions for every underwriter. The additional data points and sources also open up other possible uses for this data, such as pre-employment screening and onboarding background checks.
These data points include:
Additional payroll systems
Payslip data from available payroll systems
Additional document type information on Documents data points
Increased length of time to process archives
We've also continued to improve on our estimated income data from government-mandated contributions, which we released earlier in 2022. We added derived data from Pag-IBIG contributions as well as ongoing improvements on income calculations.
The various data points available and Smile's derived data help to unify and understand income data across all employment sectors. With this, risk managers and decision-makers can see a simple income per month data point as one solid basis for lending decisions.
Development Tools to Make Life Easier
We've made several updates to various developer tools and resources to speed up integration and onboarding. Smile is committed to making sure even your developers smile, and in that vein we've added three new sections to our Documentation: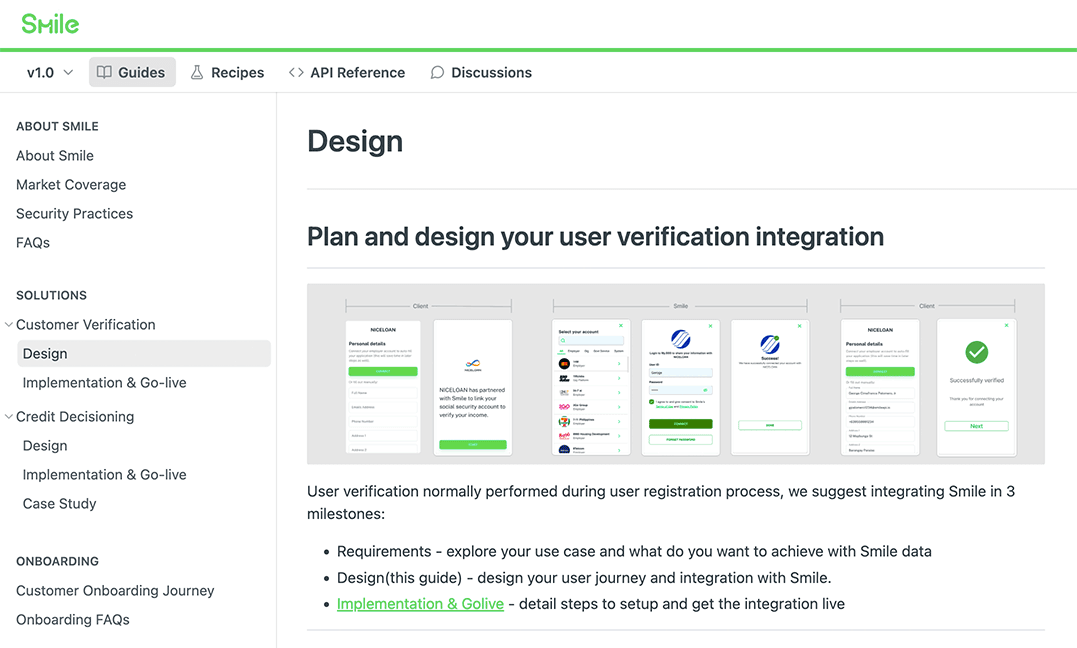 We've also beefed up our available webhooks to ensure you get the information you need when you need it. You can listen to the new TASK_STARTED and TASK_FINISHED webhooks to help you manage your data retrieval processes better. The ACCOUNT_CREATED webhook allows you to listen for events even for data points that do not require logins. Lastly, we've added the provider ID in all webhook payloads so you save the additional cost of having to fetch that information.
For users of our Developer Portal, we've also made finding your customers easier through the display of their names and photos in the users list, if it is part of the information shared by your customer. Unavailable data points are collapsed by default to ensure you get to the sections that matter quicker.
Lastly, working as a team is even easier with the addition of a team invite feature newly released in our Developer Portal.
In conclusion, Smile API continues to be the leader in secure and accurate data verification by delivering a range of new and improved features in the last quarter of 2022.
The new customizable web SDK, Wink Widget, offers a better user experience and faster loading times, while additional data points and sources help reduce non-performing loans. In addition, Smile has updated its development tools to make life easier for developers, including updated webhooks, a solutions section in the documentation, and a team invite feature in the developer portal.
With these updates and improvements, Smile API is empowering its clients to provide services and make better data-driven decisions. These are just the beginning, and we can't wait to see what you will create with them. If you have any questions or feedback, please reach out to us!