The atmosphere at SaaScon PH 2023, the country's largest SaaS conference, was vibrant and filled with industry leaders, visionaries, and tech enthusiasts. They were all eager to delve into the future of the rapidly growing SaaS and tech industry in the country. This year's event, held on March 28, 2023, at the Marriott Grand Ballroom, focused on how SaaS adoption could catalyze digital transformation in Philippine businesses. The conference provided valuable insights and opportunities for companies to streamline operations and boost productivity.
The eight-week challenge, hosted by Sprout and Kaya Founders, brought together Filipino innovators who collaborated and pitched their groundbreaking SaaS ideas. One of the event's highlights was the presentation of the top three startup pitches of Impact '23. Our CPO, Jan Pabellon, was the first runner-up in the esteemed Accelerator Program. Jan pitched Smile's solution for doing pre-employment background checks quickly and easily by using digital methods to enable candidates to share their data with their new employer and with their consent.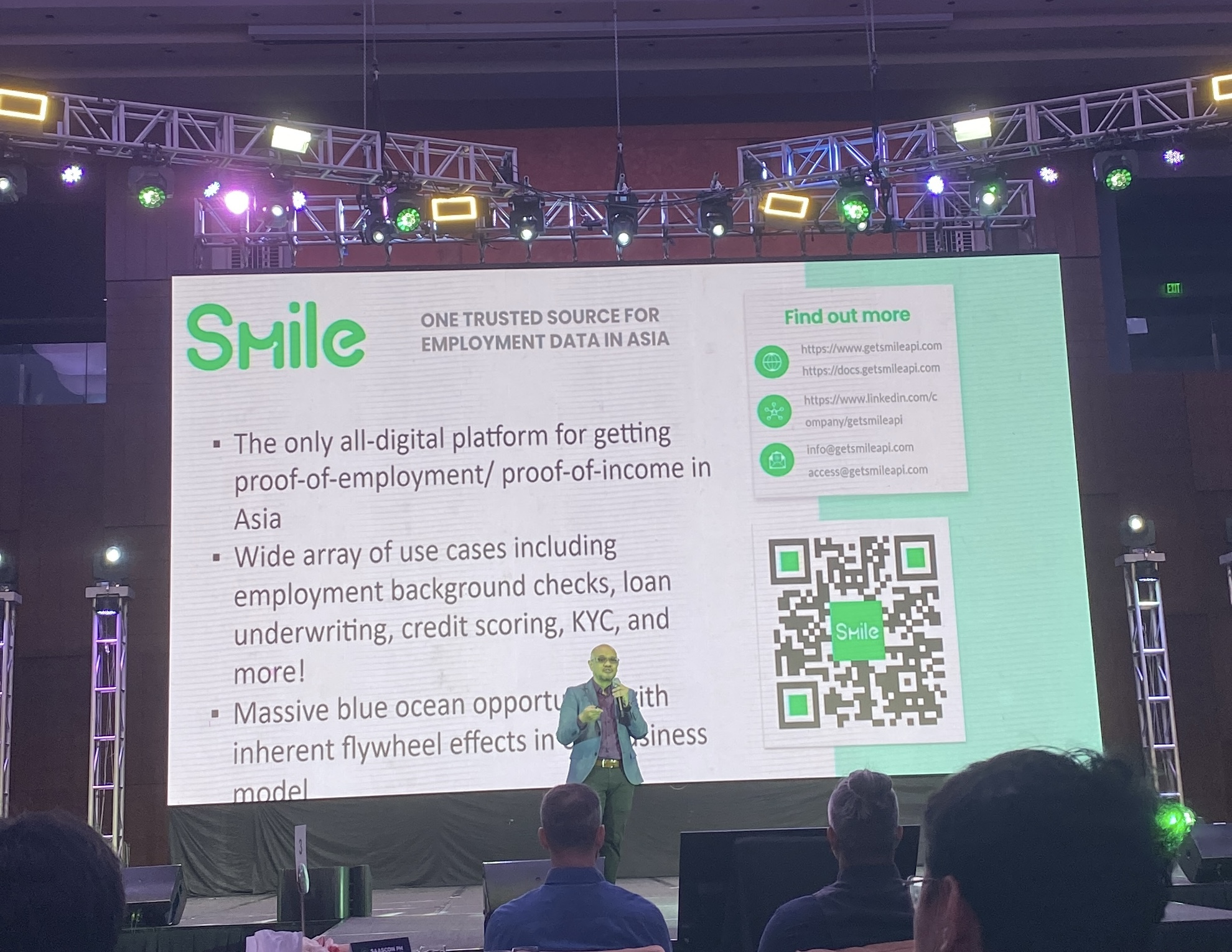 Impact '23 judges recognized the immense potential of Smile API's background check solution for employers. By seamlessly gathering a candidate's employment and income data, Smile empowers human resource professionals and hiring managers with comprehensive and verified insights needed to make informed decisions about their new hires.
The second runner-up, Umwelt.AI, presented Nikki—an all-in-one AI HR officer. Nikki is a chatbot designed to provide round-the-clock support to employees, just like a human HR officer. Olivia Technology Group Inc. took home the grand prize with their winning app that can scan and digitize receipts. Their solution helps HR departments and employees streamline their reimbursement and liquidation process.
The Impact '23 Accelerator Program indeed was a great success, with Smile API emerging as the first runner-up. The pitch competition showcased some of the brightest and most innovative minds in the Filipino SaaS industry. It was inspiring to see how these startups are leveraging technology to solve real-world problems and drive digital transformation in businesses. SaaScon PH 2023 served as a great platform to connect with industry leaders, share ideas, and learn about the latest trends and innovations in the SaaS space. We look forward to the next edition of SaaScon PH and the continued growth of the SaaS industry in the Philippines.