We have been working hard to greatly enhance the value we are bringing to you, our customers and partners, in our commitment to being your trusted source for employment and income information that we hope will make you smile!
In this latest round of product enhancements this quarter, we are excited to announce that we have made great progress in providing you:
tools to more easily test the product
means to make it easier for your users to share their data with you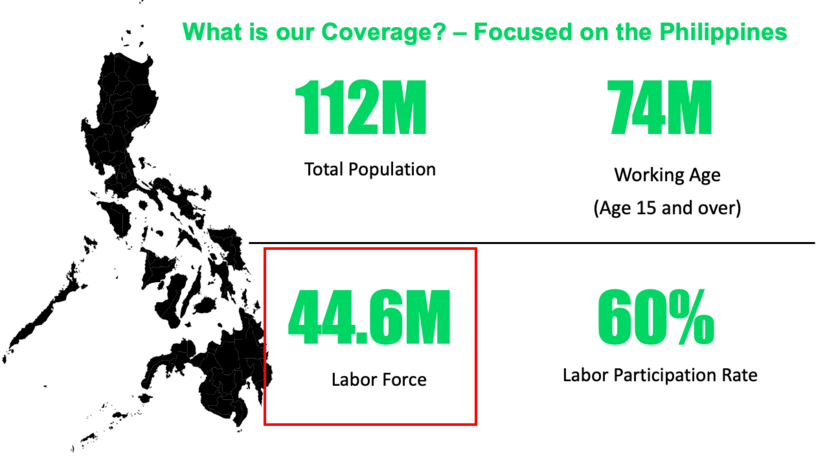 To start, we are releasing several new features, to greatly widen our coverage in the Philippines! We are now moving beyond just covering gig workers, to now include workers who have regular employment as well! This potentially gives you access to majority of the population in the Philippines of working age, as much as 65%! We achieve this by providing:
Data from their contributions to the country's social insurance systems - we are now able to cover and link accounts from employees' social insurance data in the Philippines via our Wink Widget. Social insurance contributions are mandatory for most employees and their employers in the Philippines, whether those in the private sector (through the government-owned Social Security System), or the public sector (through the Government Service Insurance System). Employers are required to maintain current information about their employees, and remit their contributions to the social insurance system along with the contributions of their employees, which are typically automatically deducted and withheld by the employer on a monthly basis.
Support for file uploads - for most employees in the Philippines, we recognize that their on-hand employment and income data will likely still be in a document: either as a digital file, or printed on a piece of paper. In our latest release, we now support the ability for these employees to upload files—such as a PDF (Portable Document Format) file; or a photo, scan or screenshot of a paper document. They can use this to more readily share proof of their employment—such as their social insurance information, or their company ID. They can also use this to share proof of income, such as copies of their payslips, or to upload a copy of their latest BIR 2316 tax certificate—a certificate issued by employers to show amount of income they have paid and amount of tax withheld from that income given to their employees. This is just the beginning though, as soon we will be allowing the upload of more file types.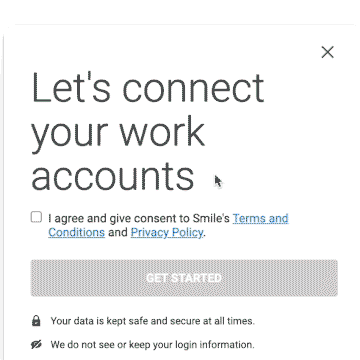 Automatic recognition and digital conversion - for certain types of documents, we also support the automatic conversion of the photos, screenshots or scanned copies of these documents into a machine-readable format via Optical Character Recognition or OCR. We are able to do this specifically for screenshots or photos of employees' records in the government's social insurance website, or via copies of their latest 2316 tax certificate. We use the latest in machine learning and artificial intelligence to automatically recognize the data and convert it into JSON (Javascript Object Notation), which can then be retrieved via our API. For easy review and comparison, we also provide you a link to the original uploaded file, which we are able to store temporarily in a secure location for you to view or download.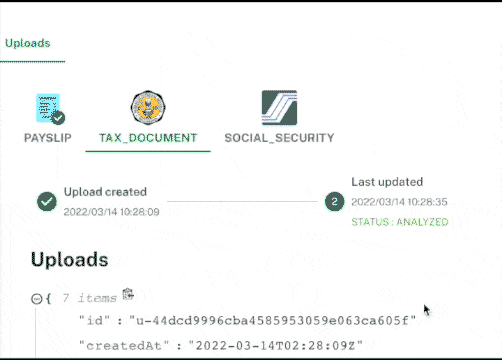 We are also going deep, with additional data points to expand data coverage. For your users, whether they are gig workers or employees, we can now allow you to retrieve their:
Document information – we can now retrieve from your users' linked work accounts or uploaded files some document-related information. We can retrieve for example their official or government-issued identification (ID) documents—such as their social security number, tax identification number. Over time, we will expand this to cover any documentary information that users have shared or stored in their employment platform such as licenses, certifications, and others.
Employment information – we can now also retrieve your users' past employment history, including the name of their current and previous employers, their job titles and descriptions, start dates and end dates, status, and many other data points related to employment.
Incomes – we are now also able to retrieve your users' income information directly. If they are employed, and have connected their employment insurance account or uploaded files related to their income tax, we can now automatically retrieve their gross income, and if available, a breakdown of that income including base pay, adjustments or deductions, to arrive at net income.
Tools to More Easily Test the Product
Its now easier than ever before to try out the Smile API, with the release of our new Developer Portal! The Smile API Developer Portal now allows anyone to sign up and try out the API. If you sign up, you will automatically get a set of API credentials (your API Key and Secret) to access the API in a sandbox environment. We also provide a working example of the Smile Wink Widget—so you can test how the data sharing and linking process works. To use it, we provide you example accounts that can be used in sandbox mode for you to be able to try the Widget by connecting a work account. We also provide a preview of the JSON payloads associated with the different users who connected their work account through the Wink Widget, showing data grouped by data points available from each data source. Once you are ready to start using Smile in production, you can easily book a call within the portal to initiate a request to get access to the API credentials you will then be able to use the API in production mode. In production mode, you can start using the Widget for actual live accounts, and also enable and preview the upload feature, where you can have users upload files containing their employment and income data. The developer portal is live now and is completely free to use.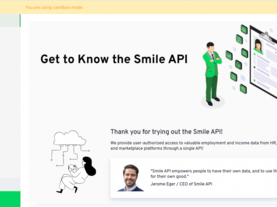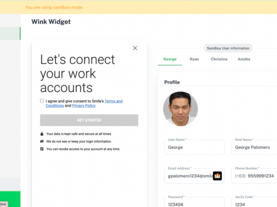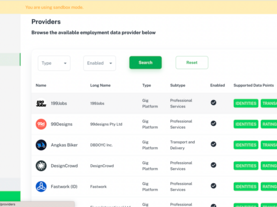 Making it Easier for Users to Share their Data with You
We have also added a couple of ways to make it easier for your users to share their data with you. We have added a couple of tweaks to our Wink Widget and our API to do this including: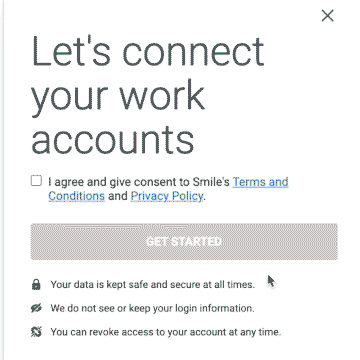 Showing a list of the biggest employers in the Philippines - we have added this to the Wink Widget to allow your users to more easily find and share with you their employer, in a more intuitive way. If their employer is not in the list, we allow them to type in the name of their employer. Afterwards we then present the file upload interface, so they can upload any employment or income-related document they receive from their employer, specifically their social insurance records.
Invitation API – we are now able to provide a way for you to invite your users to share their data, without implementing the Wink Widget SDK or modifying any of your applications or onboarding procedures. We do this by allowing you to send personalized email messages to your users, which invites them to click on a link which has a hosted version of our Wink Widget just for your organization. Once they connect their work account or upload any file, that data goes straight to you, and can be accessed via the API or the developer portal. Access to production mode, using production API credentials, are required to use this feature.
These are just some of the features we have added in this release. We have also tweaked in many places the performance and reliability of our API, the Wink Widget, and added improvements to the API structure itself to accommodate these new features.
We encourage you to try the Smile API today, and see how we can help you get trusted employment and income information from your users!