MANILA, Philippines (June 9, 2022) -- Fourteen million Filipinos still do not have adequate access to formal credit with five out of 10 having no requirements. This is the current state of financial inclusion in the Philippines today, as shared in a recent media forum. This is the problem that companies such as Smile API and movements such as Digital Pilipinas are working tirelessly to address.
"At Smile API, we believe that access to your own data is a basic right," shared Smile API CEO Jerome Eger. "We serve as a bridge between you and your financial goals. Because if you have no data, you are excluded from a lot of services that ensure livelihood and improve quality of life which are important for our daily ins and outs. Three out of ten Filipinos don't get access to credit or financial services at all."
At the recent webinar "Let your Data Work for You", co-organizer Smile API Chief Product Officer Jan Pabellon shared that their service now covers 40 million Filipinos, consisting of 25 million salaried employees, 11.7 million self-employed individuals, and 4.1 million government employees. This represents one of the major developments in the country's march towards an era of Open Finance and unprecedented financial inclusion.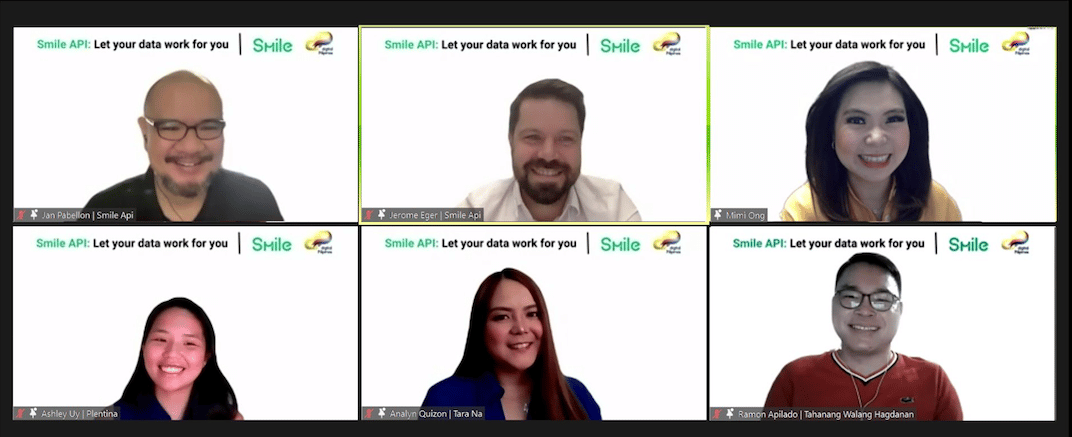 But the wide coverage is only one measure of how effectively Smile API can deliver its unique service, another is the depth of the data that is available. Although Smile API's network is already extensive, they are still looking for and reaching out to various online platforms and institutions to provide even more comprehensive data.
Smile API is also interested in the end user side of the process, and will be running a 3 month survey on various online platforms. The regional app developer will be donating 50 pesos per completed online survey to Tahanang Walang Hagdanan (TWH), Smile API's chosen NGO partner for the company's CSR efforts. Jan Pabellon shared that TWH was selected because its mission of inclusion intersects with Smile API's own values.
TWH Administrative Manager Ramon Apilado was on hand to talk about TWH and the many efforts of his well established NGO, that is dedicated to uplifting the lives of Filipinos with orthopedic disabilities. "We may be persons with disabilities but we can do jobs other people can't do, you just have to give us the opportunity and we can do the job well," shared Apilado. "We are thankful to Smile API for choosing our organization TWH to be one of their partners, and we are very happy because for very completed survey, 50 pesos will be donated to our organization," he concluded. To access the survey, go to: getsmileapi.com/employee-survey.
Data ownership for jobs and loans
Open Finance enables financial data like credit standing, savings, and loans, to be shared with qualified, secure third-party providers. It enables customers to have greater control over their data and access to financial tools, while providing businesses information they need for better decision-making. Championing its growth in the country are Smile API, which provides real-time user-authorized access to recent, verified nand comprehensive employment data, and webinar co-organizer Digital Pilipinas, the largest private sector-led movement to tech up the Philippines.
Another advantage of Smile API is the reduction of recruitment processing time. "Prior to Smile API, 20,000 applications used to take weeks to process; it can now be done in a matter of seconds. With Smile, we are now smiling," shared Analyn Quizon, COO of B2B logistics provider TaraNa PH which is utilizing Smile API's services to quickly expand its delivery fleet to meet customers' growing demands.
Plentina, an app-based Buy-Now-Pay-Later service, was drawn to Smile API's ability to deliver data even for the unbanked and underserved: "Fifteen percent of our current customers can be served by its platform. As we develop both our technologies, we can see a chance of that percentage growing higher and higher over time. Smile API will allow us to unlock more than 90% of the Philippines' labor force based on their scope and coverage," said Plentina Product Manager Ashley Uy. "With Smile API, we project an improvement of around 12% in our approval rates, with the partnership moving forward."
After securing a loan or job applicant's explicit consent, Smile API gathers recent, verified and comprehensive employment and income related data from its network, and encrypts and pulls it up in seconds for a lending institution's review or employer's vetting. It neither stores nor disseminates that data beyond the user and the prospective lending institution or employer. The "one time" nature of the transaction is what insures that the data obtained is always recent, and verified. Because the data is encrypted in transit, it is also secure and confidential.
Based on customizable parameters provided by clients, Smile API has the capability to actually outright approve or reject an application instantly. Its growing network of data resources include government online services, as well as gig platforms, transportation and delivery platforms, e-commerce platforms, and HR and payroll systems.
Founded late last year, Smile API has already attracted substantial funding, recently from Afore Capital, a $300 million venture capital firm based in San Francisco. Afore Co-founder and ex-Twitter executive Anamitra Benerji shared that over the last 6 years, his company has invested in 80 different startups collectively worth $11 billion today. They are interested in investing in startups in the pre-seeding stage, and he expressed his hope that Smile will be the next Twitter.
Smile Technology Pte Ltd is one trusted source for employment data in Asia. Smile provides user-authorized access to valuable employment and income data from HR, payroll, commerce, and marketplace platforms through a single API. Banks, fintechs, recruitment agencies, and other service providers can leverage employment and income data to increase adoption and conversion, reduce cost, and risk. Permission to access their own personal data is given by each individual user, to enable seamless data sharing with trusted parties.